At Théia Aesthetics, the Detroit, MI medical spa partner of Fraser Eye Care, we know how important it is for our patients to feel great about the way they look. For our patients who are frustrated by the appearance of signs of facial aging including fine lines, wrinkles, and decreased volume, we are pleased to offer dermal filler treatment with Restylane®. We offer a range of Restylane products, allowing us to customize treatment to address each patient's unique concerns.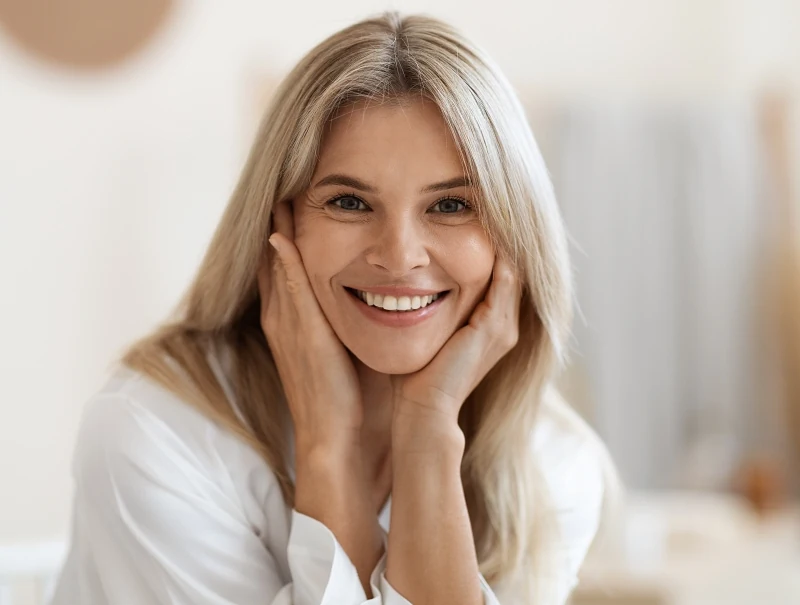 How Does Restylane Work?
Restylane is a dermal filler that is FDA-approved to reduce common signs of facial aging such as fine lines, wrinkles, and decreased volume. The Restylane formula is based on hyaluronic acid, a natural substance in the body that attracts water to contribute to skin hydration and
Trusted Source What Types of Dermal Fillers are Available? American Society of Plastic Surgeons Go to Source elasticity. As we age, levels of hyaluronic acid in our skin and bodies begin to decrease, and this is a partial contributor to the appearance of skin depressions like wrinkles. Through targeted injections of Restylane's gel-based formula, our nurse injectors can help improve volume and contour to various
Trusted Source What is Restylane? Restylane USA Go to Source areas of the face.
What Areas Can Restylane Treat?
Because we offer such a wide array of Restylane injectable fillers, our nurse injectors are able to address multiple signs of aging to the face. We can also help patients improve facial contours by adding volumes to key areas. With Restylane, we can help patients achieve:
The appearance of fewer wrinkles, fine lines, and folds
Reduced appearance of smoker's lines, smile lines, marionette lines, laugh lines, and nasolabial folds
Reduced appearance of under eye bags, hollows, and dark circles
Enhanced cheek contours
Natural-looking lip enhancement
Improved chin and jawline definition
Hands that look more youthful
The Restylane Family of Dermal Fillers
Each Restylane formulation is based on hyaluronic acid gel, but they come in varying densities so that treatment can be customized.
Restylane
Restylane has been FDA-approved for mid-to-deep injection to reduce the appearance of moderate folds and wrinkles. Our nurse injectors may also administer Restylane to enhance lip volume.
Restylane Kysse
Restylane Kysse is designed specifically for non-surgical lip augmentation and lip enhancement. In addition to improving lip volume, Restylane Kysse can also be used to reduce smoker's lines and other fine lines around the mouth.
Restylane Refyne
Restylane Refyne is injected to address moderate folds or wrinkles in the mid-face area.
Restylane Defyne
Restylane Defyne is used to improve the contours and definition of the chin, and can also treat moderate to deep facial wrinkles and folds.
Restylane Contour
The thicker texture of Restylane Contour makes it ideal for improving midface contours.
Restylane Lyft
Restylane Lyft is designed to add volume to the midface and cheekbones. Our nurse injectors can also use Restylane Lyft to treat deep facial wrinkles such as nasolabial folds, and to add volume to the hands.
Restylane-L®
Restylane-L may be injected into the lips to improve volume, and can also be used to treat moderate to severe folds and wrinkles, including nasolabial folds. Restylane-L can also be applied for non-surgical cheek augmentation.
Preparing for Restylane
Before your Restylane treatment, you will have a consultation with one of our experienced practitioners so that you can learn more about Restylane and how it can benefit you.
Restylane Treatment: What to Expect
Restylane treatment takes one hour or less. All Restylane formulations contain lidocaine, and your practitioner will also apply a topical anesthetic. Prior to treatment, your skin will be cleansed. You will relax as Restylane is injected into the treatment area(s).
Restylane Recovery and Results
No downtime is necessary post-treatment: it is normal to notice some bruising and/or swelling after your Restylane treatment, but this will resolve quickly. You will begin to notice the results of your dermal filler injections immediately, and they will continue to improve in the coming days.
Frequently Asked Questions About Restylane
Does Restylane permanently reduce wrinkles?
No. The body will naturally absorb the hyaluronic acid from your Restylane injections over time, so you will want to come in for a touch-up treatment after nine months to a year.
Does Restylane have side effects?
Restylane is FDA-approved and is considered to be safe. Side effects of Restylane are rare and typically mild, and may include redness at the injection site, headache, itching, and lumps where the hyaluronic acid has been
Trusted Source Restylane: Important Safety Information Restylane USA Go to Source injected.
How much does Restylane cost?
Because each patient's Restylane treatment plan is unique, the cost of Restylane injections is different for everyone. Before your treatment, we will give you clear expectations regarding the cost of Restylane for you.
Does Restylane hurt?
Each Restylane formulation also contains lidocaine, which is an anesthetic. Your skin will also be treated with a numbing cream before your Restylane treatment, so you should feel comfortable.
Contact Us
To learn more about how you can achieve a more youthful appearance with Restylane, contact us to schedule a consultation at Théia Aesthetics in Detroit, MI.
The Providers at Theia Aesthetics have either authored or reviewed and approved this content.
Page Updated: