Many of our cosmetic procedure clients from the Detroit, Michigan area struggle with unwanted hair growth, shaving, plucking and waxing can be inconvenient, expensive, and a hassle to keep up with. At Theia Aesthetics at Fraser Eye, our specially trained aestheticians employ the Diolaze XL laser hair removal system to remove facial and body hair with outstanding long-term results.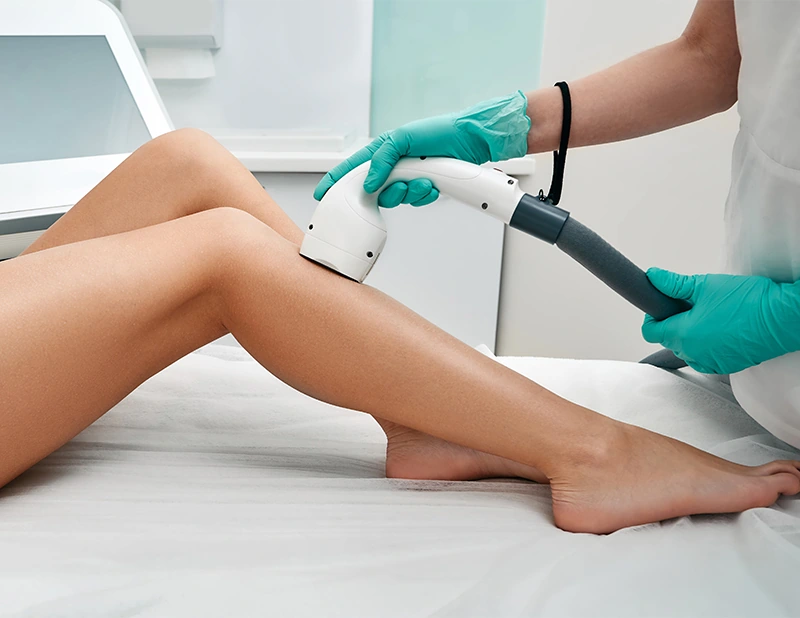 How Does Laser Hair Removal Work?
Hair grows from the follicle, and laser hair removal selectively targets hair at the follicle level. During treatment, laser light is absorbed by the pigment (melanin) in the hair. This light energy from the laser technology is converted to heat, destroying hair follicles in the active growth phase but leaving surrounding skin
Trusted Source Laser hair removal Mayo Clinic Go to Source untouched .
Benefits of Laser Hair Removal
Laser hair removal is a cosmetic procedure that delivers a wide range of benefits to our clients, including:
Laser technology is fully customizable
No downtime
Fast, in-office procedure
Highly effective with long-term results
Safe for many skin types
Effective removal of ingrown hairs
Can be used on all parts of the face or body, including eyebrows,
upper lip, hairline, arms, underarms, legs, and bikini line
Preparing for Laser Hair Removal
There are a few steps you can take before your laser treatment to ensure optimal results and reduce side effects. Before laser hair removal, we encourage our patients to:
Avoid sun exposure for at least four weeks
Discontinue use of tanning and sunless tanner products for at least four weeks
Avoid waxing, depilatories, and threading (you can shave)
Discontinue use of exfoliants, including products with retinol or glycolic acid, for at least one week
For best results, it's very important you shave the day prior or morning of treatment. There is a $25 fee if you require shaving during your appointment time.
The Laser Hair Removal Procedure
Laser hair removal with the Diolaze XL system is quick and comfortable. The laser technology hand piece will be applied to the treatment area, emitting light energy that kills hair at the follicle and leaving surrounding skin untouched. Treatment is not painful, but you may experience a sensation of warmth or mild stinging. Energy is increased with each appointment, which will increase the warmth, redness and stinging sensation of your treatment.
Recovery After Laser Hair Removal
No downtime is needed after laser hair removal. You might experience some irritation, redness, or swelling at the treatment area. These are all temporary and will resolve within a few hours.
Immediately after your treatment you will likely experience:
Slight redness or swelling around the hair follicles
Mild discomfort similar to a sunburn
The smell of burned hairs (this is normal and will subside with cleansing)
After treatment you should:
Avoid rubbing or picking the treated area
Avoid any abrasive scrubs for at least 3 days
Avoid strenuous sports activities or hot water/saunas/ Jacuzzi for up to 24 hours after treatment
Continue to use broad-spectrum SPF 30, or higher, for the duration of your treatments
Avoid electrolysis, waxing, threading, tweezing or sugaring
If a crusting or blistering develops apply Vaseline or ointment twice daily, to keep the area moist until healed and contact our office if the area shows signs of worsening condition. You may shave or trim hair normally during the duration of treatment.
Contact Theia Aesthetics at Fraser Eye
If you are troubled by unwanted facial or body hair and are tired of the hassle of shaving and/or waxing, you could be a great candidate for laser hair removal. Contact Theia Aesthetics at Fraser Eye in Detroit, Michigan to schedule a consultation with an experienced aesthetician.
Frequently Asked Questions About Laser Hair Removal
Who is a good candidate for Laser Hair Removal?
If you seek to eliminate hair on your face and/or body, you may be a good candidate for laser hair removal. In general, laser treatment is most effective on our patients with light skin and dark hair color. If you have dark skin, we can still perform laser hair removal while protecting your skin and minimizing side effects.
Does Laser hair removal work on gray or white hair?
Laser hair removal targets the melanin in the hair follicles. As such, very light colored hair or gray and white hair are not treated during these treatments.
Is Laser hair removal painful?
Laser hair removal is not painful, but one will feel a stinging or pinching with this procedure. You may feel a mild stinging sensation, but you shouldn't feel any pain.
How many Laser Hair Removal treatments will I need?
The number of laser hair removal treatments needed varies according to the patient, skin color, hair color, and treatment area. However, it's important to note that hair grows in cycles, so you'll need multiple sessions to ensure the best results. Most of our patients require five treatments for facial hair removal, with four weeks between sessions. For body hair removal, three or four treatments will be spaced six to eight weeks apart.
Is Laser Hair Removal permanent?
If you're looking for long-term hair removal, laser hair removal is
Trusted Source Laser hair removal STAT Pearls Publishing Go to Source your best option . Since new hair may grow in after treatment, you may desire the occasional touch-up treatment.
The Providers at Theia Aesthetics have either authored or reviewed and approved this content.
Page Updated: