BOTOX in Detroit, Michigan
At Theia Aesthetics at Fraser Eye Care in Metro Detroit, Michigan, we offer the gold standard in minimally invasive anti-aging procedures: BOTOX® Cosmetic! With its proven effectiveness in preventing and correcting fine lines and wrinkles, you can rejuvenate your look without having to undergo surgery.
Our team of aesthetics experts understand that everyone's skin is unique and deserves a personalized approach. That's why we provide custom-tailored BOTOX® treatments as well as a variety of cosmetic facial procedures that deliver natural-looking results that enhance your unique beauty.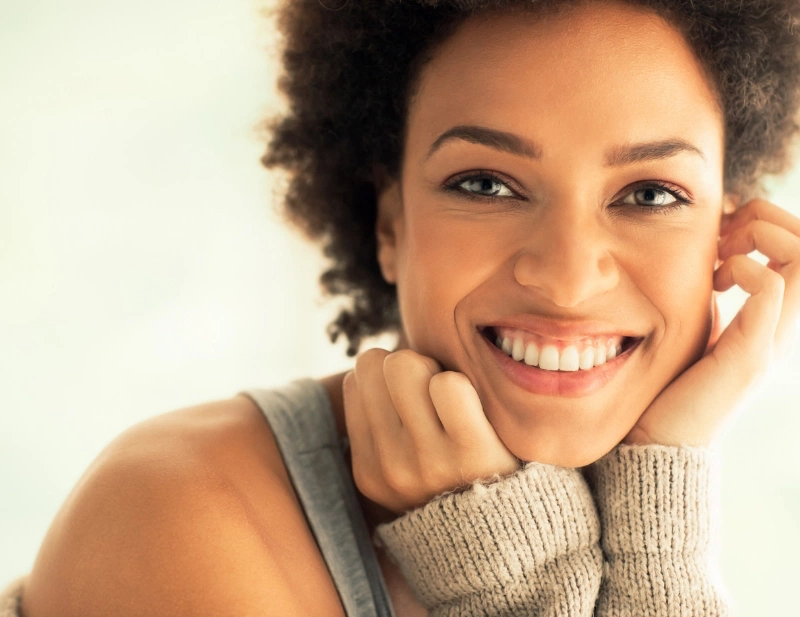 How Does BOTOX® Work?
BOTOX® is a powerful anti-aging treatment that is composed of a purified protein called botulinum toxin. When precisely injected into targeted areas, it works by preventing muscle contractions that lead to wrinkles from repeated movements.
FDA-approved for use on wrinkles between the eyebrows, crow's feet, and frown lines on the forehead. BOTOX® can effectively soften existing wrinkles and give you a smoother, more youthful appearance, with improvements in appearance as soon as 3-4 days after injection, and full effect around 11-14 days after.
BOTOX® can also be used preventatively to help delay signs of aging for people in their 20's and 30's. By regularly treating the areas most prone to wrinkles, you can proactively slow down the aging process and maintain a more youthful look for longer.
BOTOX® Alternatives
In addition to BOTOX®, there are several other highly effective injectable wrinkle reducers available that can help smooth away wrinkles and give you a refreshed look:
DYSPORT®
Like BOTOX®, Dysport® uses botulinum toxin to relax facial muscles and prevent the formation of wrinkles. FDA-approved for use on glabellar lines, which are wrinkles that form between the eyebrows, Dysport® is a smaller sized molecule than BOTOX generally requiring more injections but diffusing greater distances in the muscles, creating a more natural look.
JEUVEAU®
The primary difference between JEUVEAU and BOTOX® is that JEUVEAU's formula contains
Prabotulinumtoxin A, a unique neurotoxin that works to relax facial muscles and smooth away wrinkles, fast, in as little as 2-3 days.
XEOMIN®
XEOMIN® is a highly purified formulation that contains only Botulinum toxin type A, without the additional proteins present in BOTOX®. By utilizing a more refined formula, this injectable can effectively relax facial muscles and reduce the appearance of wrinkles generally for a few weeks longer than BOTOX®.
What to Expect From BOTOX®
Preparing for BOTOX®
Preparing for your BOTOX® appointment is easy, requiring minimal preparation.
To
Trusted Source Botulinum Toxin Injections: Procedure Details Cleveland Clinic Go to Source reduce your chances of bruising after your injection, we recommend avoiding the following 1 week prior to treatment including:
Anti-inflammatory medications
Aspirin
Ibuprofen
Ginseng
Fish oil
Vitamin E
Garlic
Ginkgo Biloba
It is also recommended to avoid wine and margaritas 1-2 days prior for the same reasons.
Your BOTOX® Injections
BOTOX® is a quick and easy in-office procedure. Using a very fine needle, your provider will carefully inject the BOTOX® into the target area. The entire process typically takes only a few minutes with minimal discomfort.
BOTOX® Recovery
One of the many benefits of BOTOX® is that there is no downtime required after treatment. You can resume your normal activities immediately, although we do recommend avoiding:
Strenuous exercise for a few hours to allow the treatment to fully settle and minimize possible inflammation.
Applying makeup for up to 24 hrs to avoid any possible contamination of the injection site potentially leading to infection and inflammation.
After your BOTOX® injection, you may experience some mild swelling or redness at the injection site, but this should resolve quickly. Most clients find that any side effects are minimal and do not interfere with their daily routine.
BOTOX® Results
After your BOTOX® treatment, you'll be delighted to see a more refreshed and youthful version of yourself staring back in the mirror!
While results are not permanent, they typically last up to
Trusted Source How Does Botulinum Toxin (Botox) Work? American Academy of Ophthalmology Go to Source 6 months , after which time you can schedule a follow-up appointment to maintain your desired look. With regular treatment, you can continue to enjoy the many benefits of BOTOX® for years to come.
Contact Us For BOTOX® in Detroit, Michigan
The team at Theia Aesthetics is dedicated to helping you look and feel your best. If you are interested in BOTOX® or other aesthetic treatments, please contact us today.
Frequently Asked Questions About BOTOX®
How much does BOTOX® cost?
The price of your BOTOX® treatment will depend on the region you want to focus on to achieve your desired results. During your consultation, our experienced injectors will discuss your goals and develop a personalized treatment plan that addresses your unique concerns and delivers natural-looking results.
Am I a good candidate for BOTOX®?
It's important to note that BOTOX® may not be suitable for everyone. BOTOX is most suitable for patients that are 18 or older and are in fairly good health. You may not be a good candidate if you are pregnant or nursing or have a history of neuromuscular diseases (such as amyotrophic lateral sclerosis or myasthenia gravis).
Will I look natural after BOTOX®?
It's not uncommon for people to worry about looking "frozen" or "plastic" after receiving BOTOX® injections. However, it's important to note that this is typically not the result of the BOTOX® itself, but rather the technique and skill level of the provider administering the injections.
At Theia Aesthetics, our injectors are highly trained and experienced in administering BOTOX® injections. We understand that each patient is unique and strive to provide natural-looking results that enhance your natural beauty.
Can BOTOX® be used for medical treatment?
Yes, in addition to its aesthetic uses, BOTOX® has several medical applications as well.
One example of a medical use for BOTOX® is the treatment of blepharospasm, a condition characterized by involuntary twitching or spasms of the eyelids. BOTOX® injections can help relax the muscles responsible for these spasms, providing relief for individuals with this condition.
BOTOX® can also be used to treat other types of facial spasms, such as those associated with dystonia, a neurological disorder that causes involuntary muscle contractions.
The Providers at Theia Aesthetics have either authored or reviewed and approved this content.
Page Updated: